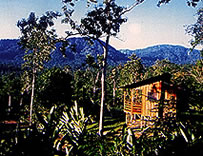 Selva Bananito Lodge, which opened its doors in December of 1995, is a secluded rain forest lodge situated 20 km south and 15 km inland of Puerto Limón on the Atlantic side of Costa Rica. It is owned and operated by the Stein family, who moved to Costa Rica from South America 26 years ago.
We generate income from tourism for the protection of 850 hectares (2,000 acres) of privately owned rain forest, and for the funding of special conservation projects there and in neighboring areas.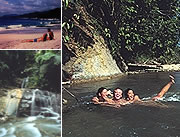 The private reserve which Selva Bananito Lodge supports, called Reserva Selva Bananito, is only a 10-minute walk from the lodge and graces the view from the cabins (see photo below). To minimize the impact of tourists on this pristine rain forest environment, we host only a small number of visitors at any one time.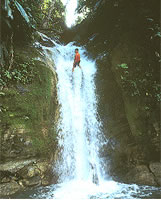 Selva Bananito Lodge and Reserve are located on our family farm. The reserve covers two thirds of the farm and consists of primary rain forest. It shares borders with Area de Conservacion La Amistad (La Amistad Biosphere Reserve), Central America's largest protected wilderness expanse, which consists of national and international parks and preserves. This area remains one of the least explored territory in the region, its biological wealth only partially known. One third of our family land (about 416 hectares or 1,000 acres) is devoted to low-impact, sustainable agriculture and cattle management.
Paula's renowned meals are served home-style in our large dining/living room (or al-fresco on the balcony or covered deck). Paula has the knowledge and flexibility to accommodate most dietary/allergy regimes.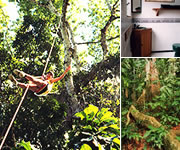 Our recently constructed covered wooden deck is proving popular with backpackers and campers. It has space for 4-2 person tents or 8 persons total. A nearby ecologically-sensitive outhouse is provided for convenience. Many services are available to campers to make their stay more comfortable and enjoyable.