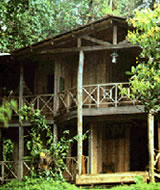 Rara Avis is a new way to save rainforest. You learn how, while you experience the richness and splendor of the most diverse environment on earth. Rara Avis was developed to show that we can make rainforest economically productive and so save it from destruction. In Rara Avis, you will be in a remote pristine jungle - true wilderness - bordering Braulio Carrillo National Park and the Zona Protectora La Selva.
At 700 meters (2000 ft) above sea level, the climate stays cool and comfortable year-round (77 degrees F or 25 degrees C). There is a lot of rain (it's a rainforest!), but mosquitoes are not a problem.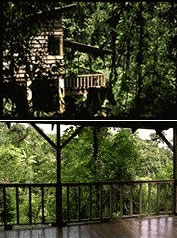 Waterfall Lodge is a comfortable but rustic lodge with eight rooms set in the jungle, each with a private bath and wrap-around balcony. Each room is a corner room and has a double bed, a single, and one or two fold-down bunks or loft beds. The lodge is located about 200 meters (600 ft) from our double waterfall. about 3 km (2 mi.) up a corduroy road from the El Plastico Lodge. Visitors in good physical condition can swim at the base of the waterfalls in good weather.Capacity: 16 at double occupancy, 28 at triple and quadruple occupancy..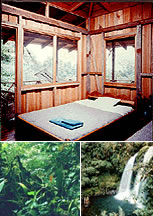 River-Edge Cabin a beautiful ten minute's walk from the dining room, even deeper in the forest, lies our secluded two-room River Edge Cabin -- ideal for birdwatchers and honeymoon couples. Each room has two double beds, a private bath with hot water, and solar-electric lighting. The shared balcony with hammocks offers an unequaled view of the forest, accompanied by the murmur of the river.
Capacity: 4 individuals @ double occupancy or 8 in couples.

Casitas these are rustic, but agreeable two-room cabins with a single bed and a bunkbed or two bunkbeds in each room, about five-minute's walk from the dining room. They are in a own private clearing, a superb site for birding.
Capacity: 3-4 people in per room, with one bathroom and cold water shower in each cabin. Total. four cabins, eight rooms, 28 people.