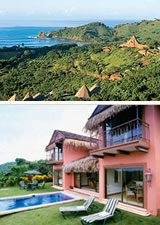 Hotel Punta Islita is located in Cost Rica's northwest Guanacaste Province, approximately forty minutes by light plane from the country's capital, San José. The Property, including 32 rooms with various amenities, sits atop a hill on the peninsula of Nicoya, overlooking the Pacific Ocean.
Situated in a tropical forest, Hotel Punta Islita provides an environment untouched by the outside world, while offering the luxury and hospitality expected of a 5-star resort.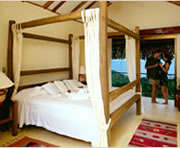 All of our rooms and villas offer you stunning views to the Pacific Ocean, the suites with an outdoor jacuzzi overlook the Pacific Ocean, the spacious bedroom in the suites features a kingsize bed and sitting area,the one-bedroom Casitas feature a private pool, and a very romantic private pool is a feature in the two-bedroom casitas.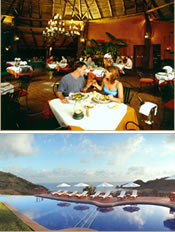 All meals are served in our Palapa Restaurant, which offers International cuisine and special Costa Rican dishes. Box lunches are available for those who travel or have an excursion during the day. At Punta Islita, we like to dinner time are a special occasion. Casual dress is suggested.

Enjoy a spectacular view while working out in our Cybex equipped gym, which contains free weights, weight tower and cardiovascular equipment.
Appointments for skin treatments, manicures, pedicures and massages can be arranged at the front desk. Ask for our specialties at the beach.