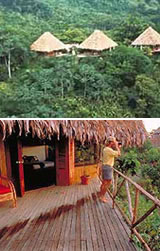 Set in a private nature reserve spread over 1,000 acres of Central America's last remaining lowland tropical rainforest, Lapa Rios overlooks the pristine point where the Golfo Dulce meets the wild Pacific Ocean, making it the destination that matches every one's idea of paradise.
Lapa Rios was built by John and Karen Lewis as a private nature reserve. A Minnesota couple driven by a vision, John and Karen liquidated all their assets to finance the purchase of a large tract of rainforest and to build the small supporting tourism project.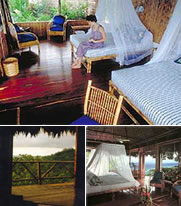 All 14 thatched bungalows have an ocean view and are surrounded by the rain forest. Guests feel part of the outdoors as constant tropical breezes pass through screened window walls. Each bungalow features a private deck and patio garden, complete with an outdoor shower. Interior shower baths are tiled and two washbasins are set in cristobal wood, matching the polished floors. Two queen-size beds are draped with mosquito netting. A private, romantic setting.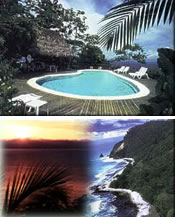 In Lapa Rios you will find spacious accommodations in the bungalows, international cuisine and a kind, outgoing staff. Combined with this comfort Lapa Rios offers a wilderness adventure few ever experience. Lapa Rios is part of the Golfo Dulce Forest Reserve, the same forest as nearby Corcovado Park. Miles of private, uncrowded trails in prime rain forest, cool rivers wild with waterfalls and pools, and unspoiled, safe sand beaches. All tours use trained naturalists for guides.