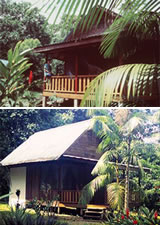 The Golfo Dulce Lodge is surrounded by the undisturbed primary lowland rainforest of Piedras Blancas National Park and the clear waters of the Golfo Dulce. The lodge consists of more than 300 hectares (750 acres) of untouched environment away from tourist crowds.
The little complex of buildings is informally grouped together as a tiny village in a large landscaped garden right on the edge of the tropical rainforest and is less than 300 yards (250m) away from the rocky beach.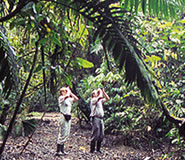 The various ecosystems and the abundance of wildlife will leave a long lasting impression for nature and animal lovers alike. Adjacent to the extensive lodge grounds, Zoo Ave maintains a release station for rescued and formerly domesticated Scarlet Macaw's, thus an encounter with that magic bird is almost guaranteed. Another attraction within walking distance is "Casa Orchideas", one of Costa Rica's most complete orchid collections.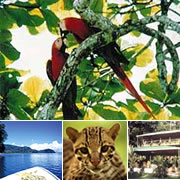 Golfo Dulce Lodge is a remote birders paradise in the South Pacific area of Costa Rica. The lodge is surrounded by the "sweet" gulf and the lowland rainforest of Piedras Blancas National Park. Bird Watching guests at Golfo Dulce Lodge so far have spotted more than 340 species of birds. Many guests have been so fascinated with the amount of birds, that they have extended their stay in our private biological reserve.